MDDHosting Review 2021 — My Honest Experience
I would like to begin by saying that this MDDHosting review is based on my own usage of the service.
This was the first good webhost I found after being scammed by iPage with their "cheap" web hosting plans. I was a noob at that time and was tricked by their gimmicks. Long story short, I did some serious research after my terrible experience and found MDDHosting.
MDDHosting: The Pros and Cons
Just like any other services, there are both pros and cons of using MDDHosting. In my experience, the advantages outweigh the disadvantages by a big margin.
Things you will like about MDDHosting —
You know exactly what you are going to get when you buy one of their plans.
For example, you can see in the screenshot below that you will get 1 CPU Core and 1GB of RAM with the Cloud1 plan. Other useful information like the number of Entry Processes, Total Processes, Input Output limit and Inodes available in a plan is also available in a single glance.
You also get unlimited storage space with the plan. The bandwidth is also unlimited with all Cloud hosting plans and you can host unlimited number of domains on same plan. Here is another screenshot that shows the pricing of different plans at different billing cycles.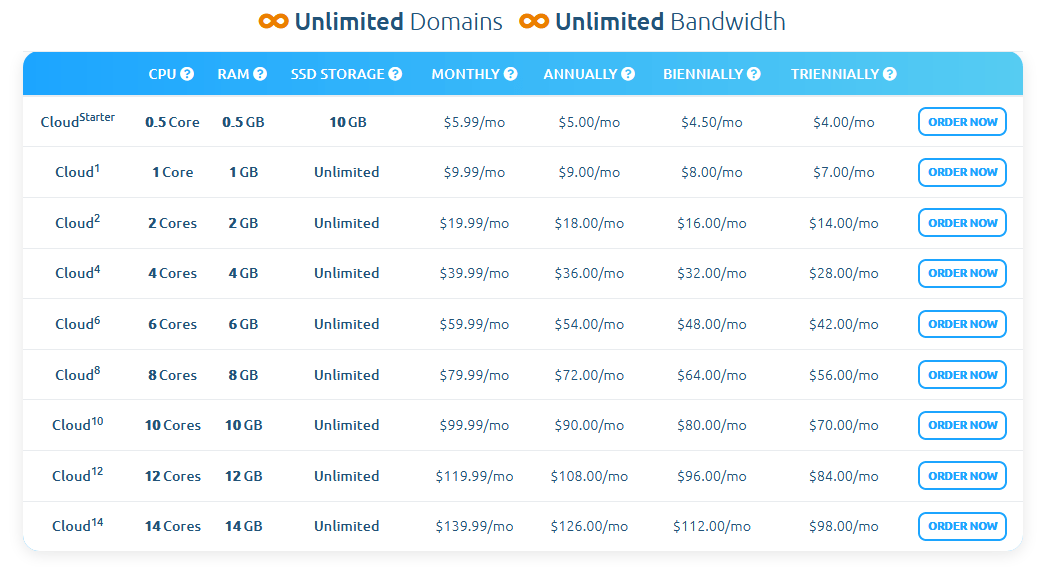 Nothing in real world is ever truly unlimited. It is usually a red flag when hosting providers don't provide you with details of exact specs that you will be getting. They are just trying to lure new customers in by using the word "Unlimited".
However, don't worry about the Unlimited bandwidth and Storage space mentioned in pricing tables on MDDHosting. Allow me to explain the case of both Unlimited storage and Unlimited bandwidth.
Unlimited Bandwidth
MDDHosting gave their infrastructure a massive upgrade in 2016. This also included upgrading server connectivity to 20 GBPS. Earlier, the entire network was operating on 2 GBPS connection. This means that MDDHosting can now be more generous with its allocation of bandwidth.
You are more likely to reach other limits on your hosting account before ever using a problematic amount of bandwidth.
Unlimited Storage
MDDHosting now uses StorPool to manage its storage. The company was limited by its hardware before migrating to StorPool. For example, each server had a finite number of drive bays and it wasn't possible to add additional storage once all the slots were full.
Using StorPool allows MDDHosting to allocate storage to any server whenever need arises without any service disruptions. This makes it possible for them to provide unlimited storage. Remember that you cannot abuse the generous storage policy and using it for any of the purposes below will be a policy violation.
File Upload / Sharing / Backup / Mirroring / Distribution / Archive sites.
Sharing your account resources whether for free or for pay.
Image Dumps / File Dumps.
Storing copyrighted material of which you are not the owner.
Storing content or media that is not related to an active website.
Unlimited Domains and MySQL Databases
Just like bandwidth and storage, you also get unlimited domains and MySQL databases with MDDHosting. However, the more databases and websites you create the more quickly you will hit other hard set limits like CPU, RAM and Entry Processes etc.
When MDDHosting says that you get unlimited storage, bandwidth, domains and MySQL databases, it basically means that you won't be limited by these specific factors in the process of creating a website. There are still checks and balances to make sure the system is not abused. This way everyone gets a fair service.
The support staff is very knowledgeable and happy to help.
Another pleasant surprise for me after coming from a horrible iPage experience was the customer support service of MDDHosting.
You can ask a technical question any time of the week and usually get back a reply in 15-20 minutes. They also resolve most problems after exchange of two or three messages and investigating what is going on.
I do a lot of experimentation with different libraries, frameworks in PHP as well as the WordPress CMS to learn more about web development.
I once ran into an issue when I was creating a commenting system from scratch in PHP. Everything worked perfectly locally but not on the web server. I was helped by Scott who listened to my problem and helped me resolve it.
There are many other instances which made me realize that I can count on the MDDHosting support staff to quickly resolve technical issues.
You get lot of tools to manage your Website.
MDDHosting uses cPanel and offers a lot of tools to make it easier for you to manage your website.
This includes things like setting up Cron Jobs to run some specific scripts on a schedule. You can also easily install SSL certificates on your website using Autoinstall SSL.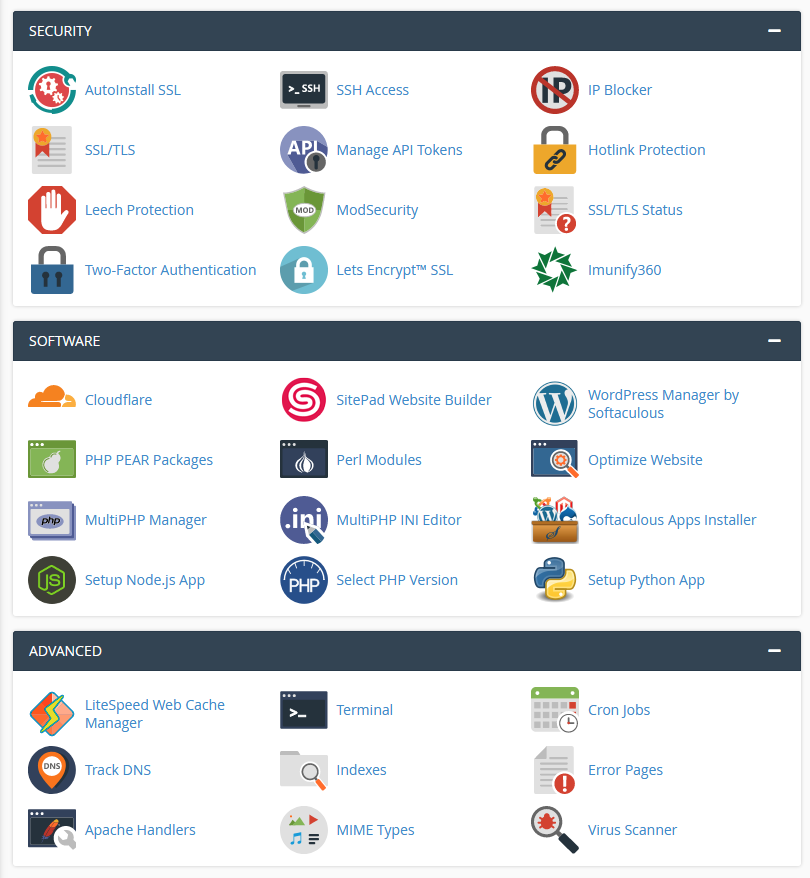 You can be rest assured about running the latest stable version of PHP on your website. It is also possible to select different PHP versions and php.ini files for different websites hosted on your account. This allows you to set different values for options maximum execution time and maximum memory consumption of a script.
You probably won't have to change most of these options because they are set to a sensible value.
MDDHosting runs on LiteSpeed Enterprise Web Server.
LiteSpeed is an amazing web server technology that gives you a lot of performance boost with the same specs. It is fully compatible with Apache and at least 340% faster. It is also at least 140% faster than nginx!
You can also check the benchmarks for different software configurations involving WordPress, Magento, Joomla, OpenCart etc.
When combined with LiteSpeed caching technology, you get mind blowing performance improvements. Here is a screenshot of the WordPress benchmarks from their website.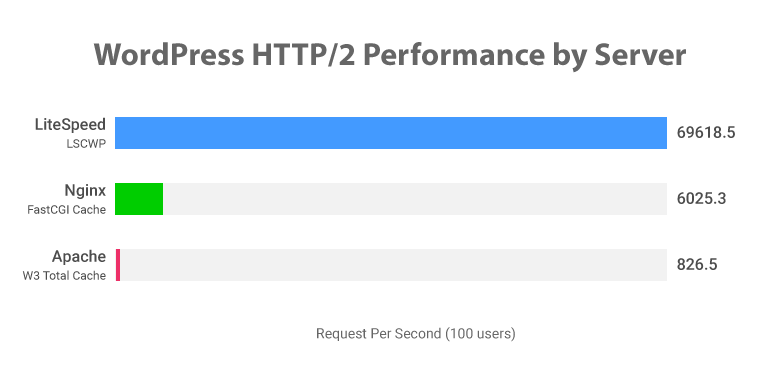 I have seen the performance improvements first hand on my own websites.
Things you might not like about MDDHosting —
The only thing that you might not like about MDDHosting is its pricing. However, their service is definitely worth the price you pay for it.
You get state of the art infrastructure. As I have mentioned earlier in the post, MDDHosting regularly invests in its infrastructure to improve its quality of service. This might not be true for some cheap web hosts.
You get excellent support from knowledgeable staff. This many not seem like such a big issue now but you will almost certainly need help from someone with a technical know-how when setting up a website. This is especially true for beginners.
Cloud hosting gives you the flexibility of upgrading or downgrading your account whenever need arises without worrying about migrating between different servers.
A lot of companies will try to lure you in with very cheap promotional prices for the first month or year and then charge you a lot in the long run. This has actually happened to me when I first started out and I just don't want it to happen to anyone else.
Comparing the pricing of different cloud hosting services will show you that MDDHosting has a very reasonable price.
MDDHosting: Uptime
A higher uptime value for a website usually means more revenue compared to a website that's down every now and then. Ideally, all of us want our website to be up and running 100% of the time. However, websites both big (like Facebook etc.) and small do experience down time in real life. Any uptime value over 99.9% is pretty decent in this regard.
MDDHosting is so confident of the robustness and reliability of its underlying infrastructure that it will offers a 1000% uptime guarantee.  If a server is ever down for more than an hour, they will credit back 10 times the downtime to your account.
Here is a screenshot that shows the status of different servers when I first wrote the article: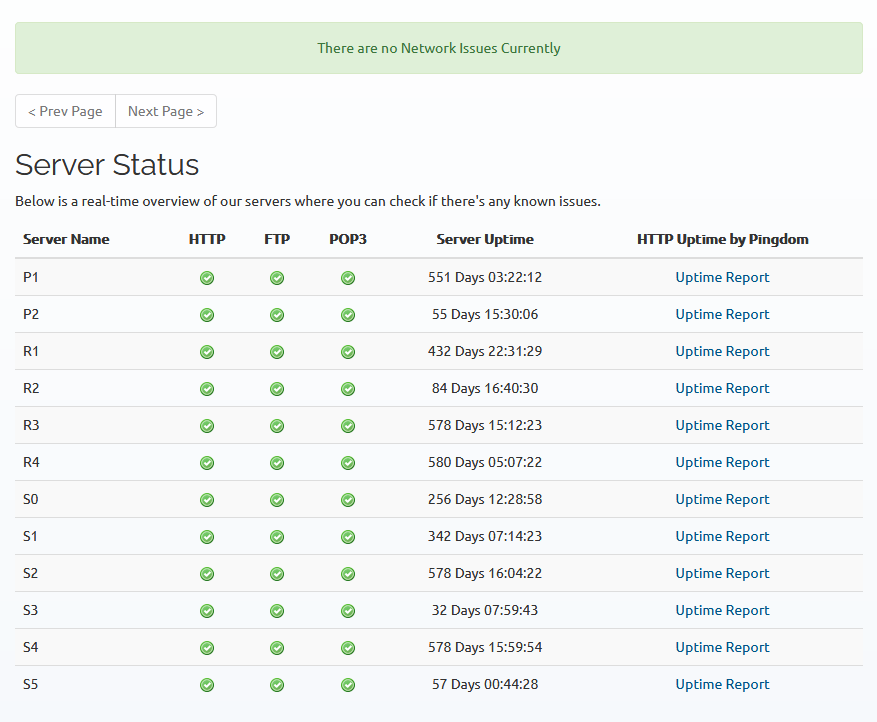 Here is another screenshot that shows uptime report of different MDDHosting servers on Pingdom: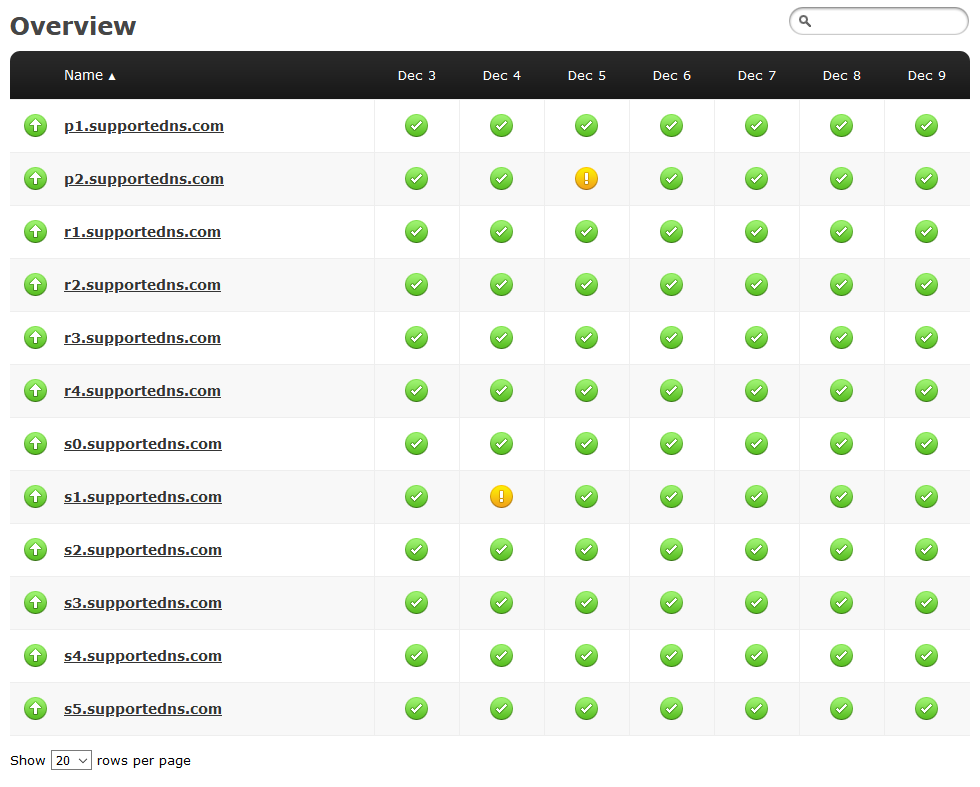 One thing I would like to mention here is that Pingdom can sometimes report a false-positive when MDDHosting is rebuilding Apache or PHP. The reported downtime in these cases can be up to 5 minutes. The orange marks above which signify a service disruption of two minutes could be due to this reason.
MDDHosting: Best Hosting Plans for You
Once you have made up your mind about using MDDHosting to host your website, the next thing you want to do is select the right hosting plan.
I have discussed this in detail in this guide on how to create a website.  Here are my recommendations specific to MDDHosting based on my own experience:
Recommended MDDHosting Plans
Website Technology Stack + Traffic
Plan Name
Static (HTML) + Low Traffic
CloudStarter Plan
Static (HTML) + Medium Traffic

Dynamic (PHP etc.) + Low Traffic

Cloud1 Plan
Static (HTML) + High Traffic

Dynamic (PHP etc.) + Medium Traffic

Dynamic (WordPress etc.) + Low Traffic

Cloud2 Plan
Dynamic (PHP etc.) + High Traffic

Dynamic (WordPress etc.) + Medium Traffic

Cloud4 Plan
Dynamic (WordPress etc.) + High Traffic
Cloud6 Plan
The above recommendations are based on the assumption that all other aspects of the website are properly optimized. This includes things like efficient caching and fast running database queries.
MDDHosting: Coupons
You can save some money on your first billing cycle by using the coupon codes below:
Use the coupon code TRY40 to get 40% off on the first month of a monthly billing cycle.
Use the coupon code EXTRA8 to get 8% off on the first bill of any billing cycle.
The coupons are only valid for cloud hosting and reseller hosting.
Conclusion
I hope this review helped you in making a decision about using MDDHosting as your next webhost.
They are reasonably priced, offer great service and have knowledgeable staff. If you have any questions about MDDHosting or websites in general, please ask in the comments below.
Rate this post —